Here's the second in the series of watercolor scenes that I'm working on :D It's the Alatus Headmaster's office!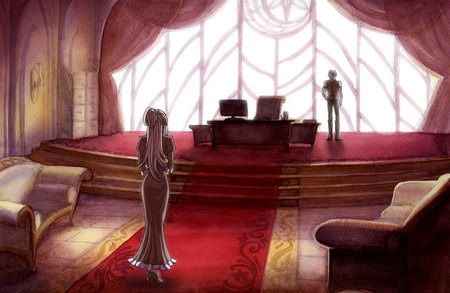 This one was a little tricky because of all the red going on, and with watercolor different colors have different physical properties when you put it on paper. With the red, after you put it on it tends to come off really easy if you do anything on top of it, and ideally I think it should have been left for the last layer. BUT it wasn't, so once it was put on, the rest of the painting felt like walking on tightrope. D:
SO ALSO. I got a better scan of this painting than the last one! The flatbed scanner at work actually scanned my coldpress paintings without any of the coldpress texture! So that means I don't have to do anything in hot press after all ;D (my prior experience with using hot press was relatively unpleasant, so this development pleases me.)
That being said, I rescanned the dorm room picture and changed up the scene a bit. :>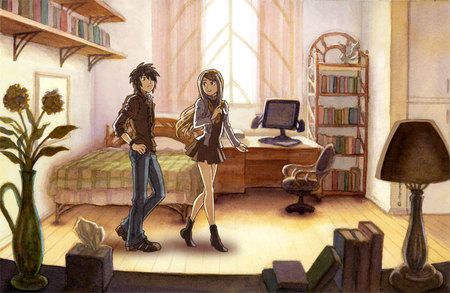 This would be a year prior to the start of the story, with Zephan and Ryan both incoming freshman to the Alatus high school. Ryan, having been a student of the Alatus middle school, is showing Alatus new arrival Zephan around the dormitories.
I'm almost done with the next two paintings so I'll post them up within the next week ;D (which happens to be FINALS WEEK BTW alfksdfjsa;dfaj)