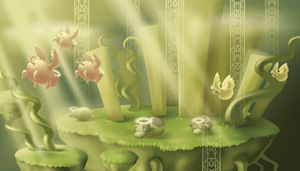 The second Illustrator project in my digital illustration class this semester was to make a internet game background based on a theme he provides each of us. The theme I was given was "heaven." I had a tossed a few ideas around for it, but ultimately I ended up drawing cows again, + other livestock? aheheh. o_o
The week before the project was due my professor taught us how to use the gradient mesh tool, which I ended up abusing for the entire project. It was a bit of a masochistic endeavor in that it took forever to do, but I sorta liked it. >__> I had vowed to myself that I wouldn't stay up all night again for this project like I did the last, but alas! Better luck next time D:
Incidentally, I just got a job (!!) as a graphic artist in my school's Graphic Services department (hurray steady income!!) so I guess I'll be getting a lot more practice with vector stuff from now on. :X But normal pencils and digital paint illustrations will always be my true love!!!