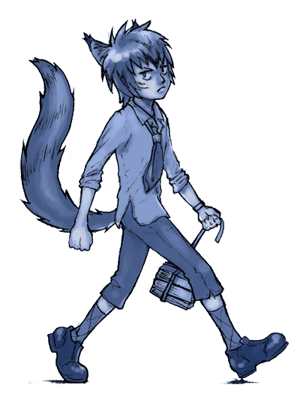 Well, admittedly I hadn't even done anything to this thing since the launch of the last layout, but that's because I had spent so long making it that by the time it was done I was already sick of it and didn't want to look at it anymore! >8\ That and also I realized that it looked kind of sad and pathetic on monitors larger than mine, which I'm coming to realize is representing a greater and greater amount of the population.
SO, this time I decided to try something I hadn't done in a long time: fluid layouts! Not only does it fit your full screen this time, but the background image actually changes sizes too depending on how big your browser window is, therefore everybody gets to have the ideal browsing experience! :D Various things have been tweaked as well to make the site more user-friendly. Let me know if you have any quips about the way the site works for you, and I'll try my best to fix it!
Also, as you can see, the full journal is viewable from the front page now, which I'm hoping will spur me to update it more often. I'm thinking about doing more with this now, not only journal entries and updates but also using this as my official sketch blog. Furthermore, remember the Minicomics? Well, I doubt the majority of you know what I'm even talking about, but back in high school I had started a little fun journal minicomic thing on my site. For about two months I faithfully updated it multiple times a week, but then I ran out of steam and after about two years of on-again-off-again I finally tucked it away.
BUT ONCE AGAIN I'M BRINGING IT BACK!! ...this time for good...? :< I'll be putting them up in this journal as entries when I do start making them again, and I'm hoping that since its not its own thing but incorporated with the journal and sketches, I won't feel as pressured to do it, therefore I'll WANT to do it more...? I don't know, I don't understand how my mind works but whatever, I'm givin' it a shot! For now, you can look at the old minicomics in the Journal Archive!
Anyway, right now the only thing that isn't functional is the Mansion Boutique, which is going to be my online shop for selling comic books, artbooks, prints and buttons. I'm still researching shopping cart scripts at the moment, but I'm hoping to get it up shortly!
Well, that's all from me for now. I've got more to say, but I'll leave that for future entries. See ya guys! :Db